ORMAI PRONTA LA PISTA CHE OSPITERÀ L'MXGP D'ITALIA IL 17-18 AGOSTO.
DA NON PERDERE MONDIALE DONNE E EUROPEO 2T, MELANDRI AL VIA DELLA E-X BIKE
THE TRACK IS READY TO HOST ITALY MXGP NEXT 17TH – 18TH AUGUST
NOT TO BE MISSED ARE WOMEN MX AND EUROPEAN 2 STROKES CHAMPIONSHIP
MELANDRI RACING THE E-X BIKE STARTING GATE
Imola, 13 agosto 2019 –Sono in via di completamento i lavori di allestimento della pista, all'interno dell'Autodromo Internazionale Enzo e Dino Ferrari, che il 17-18 agosto ospiterà l'MXGP d'Italia, quart'ultimo round del campionato Mondiale Motocross. Un tracciato che rispetto allo scorso anno si presenta con novità importanti, dalla partenza ai salti, dalla lunghezza alla visibilità, che renderanno ancora più spettacolare l'evento per i tanti appassionati presenti.
Imola, 13th August 2019– Almost all the works on track are finished, inside the Autodromo Internazionale Enzo and Dino Ferrari, that is going to host the Italy MXGP next 17th-18th August, as the last four round of the Motocross World Championship. The track has important changes to be showed, like the new start and jumps, the length and visibility, that will make the event be very spectacular for those fans arriving to Imola.
Se i riflettori sono puntati soprattutto sulle due classi principali, con lo sloveno Tim Gajser ad un soffio dalla conquista del suo secondo titolo iridato nella MXGP; e lo spagnolo Jorge Prado pronto a bissare il successo dello scorso anno nella MX2, non meno spettacolo e agonismo arriverà dalle altre due classi presenti nel programma del round di Imola, il Mondiale Motocross Femminile e il Campionato Europeo 2T.
Even if the attention is almost focused on two main classes, where the Slovenian Tim Gajser is very close to gain his second world MXGP title, while the Spanish Jorge Prado is ready to win MX2 for the second year, entartainment and show are to be expected by the two other classes racing Imola, the Women World Motocross and the European 2 strokes Championships.
Tra le donne sarà assente la sei volte e campionessa in carica Kiara Fontanesi, trionfatrice lo scorso anno proprio a Imola, che a maggio aveva annunciato la maternità. A giocarsi il titolo sono dunque le sue rivali storiche, con una classifica molto corta che il round di Imola, penultimo del campionato, potrebbe chiarire in maniera forse decisiva
Ad oggi guida la neozelandese Courtney Duncan (Kawasaki) che, pur avendo vinto cinque delle sei manche disputate, vanta solo 14 punti di vantaggio sulla olandese Nancy van De Ven (Yamaha), l'unica ad impedire l'en-plein della Duncan. Ancora in gioco, la matematica glielo concede, la tedesca Larissa Papenmeier (Yamaha), staccata di 17 punti, e la belga Amandine Verstappen (Yamaha), a 39 punti dalla Duncan. Unica rappresentante italiana Francesca Nocera, al via in sella alla Suzuki.
Among the women, the six times world champion Kiara Fontanesi will not participate Imola, where she had gained the title one year ago, because she announced to wait for a baby last May. The fight for the title is so restricted between his rivals, very close in standing points, and so Imola round can be the most important one for the final classification, because it is the second last race.
Today, the Newzealender Courtney Duncan (Kawasaki), who won five of the six manches held, but leads for only 14 points on the Dutch Nancy Van De Ven (Yamaha), the only one who managed to stop the Duncan dominion. Still in competition, is the German Larissa Papenmeier (Yamaha), behind of 17 points, and the Belgian Amandine Verstappen (Yamaha), with 39 points to recover from Duncan. The unique Italian rider is going to be Francesca Nocera, at the starting grid on Suzuki.
Ancora più incerto il campionato dell'Europeo 2T, con una battaglia serratissima tra l'olandese Mike Cras (KTM) e il britannico Brad Anderson (KTM). I due piloti hanno vinto sette delle dieci manche disputate e sono staccati tra loro di appena due punti. Nel ruolo di terzo incomodo c'è un altro britannico, Todd Kellett (Yamaha), staccato di ventuno punti, che naturalmente cercherà di sfruttare eventuali passi falsi dei due avversari che lo precedono, anche se Cras e Anderson appaiono senza dubbio i grandi favoriti.
The European 2t championship is even more uncertain, because of the hard fight between the Dutch Mike Cras (KTM) and the British Brad Anderson (KTM). These two riders together won seven of the ten motos held and the gap between them is two points only. Thirs behind is another British rider, Todd Kellett (Yamaha), who will try to gain from his rivals' mistakes, with 21 points to recover from the leading couple, Cras and Anderson, who seem to be the favourite candidate for the title.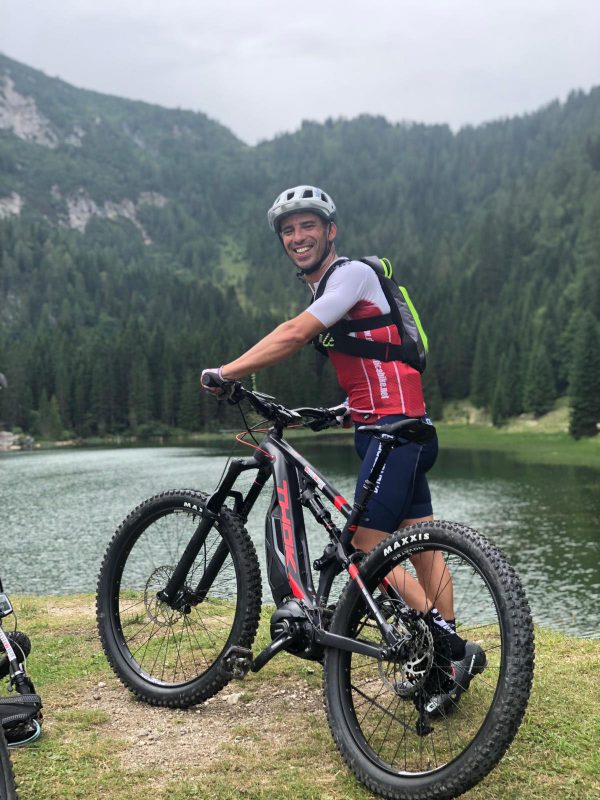 C'è attesa anche per la neonata E-X Bike World Cup, che avrà il suo battesimo proprio ad Imola. Tra i partecipanti (è prevista un'unica gara il sabato, con classifiche separate uomini e donne), che si sfideranno sulla pista di cross con le mountain-bike elettriche ci sarà anche Marco Melandri, grande appassionato della disciplina.
Everyone is also waiting for the brand new E-X Bike World Cup, that will see his historycal debut in Imola. Among participants (a unique race is foreseen next Saturday, with separated classifications for men and women), there will also be Marco Melandri, racing with electric Mountain bike on a cross track just for passion.
Il weekend in pista sarà preceduto da un imperdibile momento per gli appassionati. Venerdì 16 agosto, a partire circa dalle 15.30, piloti della MXGP e della MX2 saranno infatti ospiti della Villaggio della Salute, partner del round di Imola, per una sessione autografi.
The weekend on track will be preceded by an unmissable event for MX fans. Next Friday 16th August, starting from 15:30, MXGP and MX2 riders are the Special Guests of Villaggio della Salute, Imola GP partner, for the autograph session.
Ricordiamo che i biglietti sono acquistabili fino al 16 agosto a prezzi scontati online su https://www.offroadproracing.ite in prevendita (senza commissioni) alla Biglietteria dell'Autodromo di Imola presso: HUB Turistico IF – Imola Faenza Tourism CompanyPiazza Ayrton Senna, 2 – 40026, Imola (BO) – Tel. +39 0542 655144 – mxgp@autodromoimola.it
Orari di apertura:Dal lunedì al venerdì ore 9.30-13.00 e 14.00-18.00, sabato e domenica ore 10.00-17.00.
We remind you that until 16th August tickets are available with discounted price on-line on the website https://www.offroadproracing.itand in pre-sale (without additional fee) at the Imola Autodromo Ticket Box-Office: HUB Turistico IF – Imola Faenza Tourism CompanyPiazza Ayrton Senna, 2 – 40026, Imola (BO) – Tel. +39 0542 655144 – mxgp@autodromoimola.it
Open:From Monday to Friday, 9.30 am – 1.00 pm and 2.00 pm – 6.00 pm; on Saturdays and Sundays 10.00 am – 5 .00 pm.