Si è chiusa oggi ad EICMA la quindicesima edizione di MotoLive, e ancora una volta è stata una tre giorni fantastica di spettacolo, gare, intrattenimento e divertimento, all'insegna delle due ruote. Il pubblico di EICMA ha occupato ogni spazio disponibile sulle tribune ed attorno all'arena allestita all'aperto, per seguire le evoluzioni dei propri beniamini, godendo delle temperature miti e del sole splendente. Ad intervallare le gare, i divertenti e irriverenti sketch di Andrea e Michele di Radio Deejay e la proclamazione della "Moto del salone 2019 by Motociclismo", la Ducati Streetfighter V4, mentre in chiusura, l'ormai immancabile Buggy Flip di Maurizio "Pera" Perin, ha lasciato tutti senza parole. Motolive si conferma ancora una volta il percorso ideale che inizia con le moto esposte all'interno della fiera e si completa con lo spettacolo messo in scena dai professionisti che ogni anno scelgono questo prestigioso palcoscenico per sfidarsi e dare vita a gare intense e combattute.
The fifteenth edition of MotoLive ended today at EICMA, and once again it was a fantastic three-day show, with races, entertainment and fun. The EICMA crowd took every available places on the stands and around the open-air arena, to follow the action of their heroes. On stage was announced the "Bike of the salon 2019 by Motociclismo", the Ducati Streetfighter V4, while the last action of the day was the Buggy Flip of Maurizio "Pera" Perin that left everyone speechless. Motolive confirms once again the ideal route that starts with the bikes displayed inside the fair and end with the show staged by the racer who each year choose this prestigious stage to challenge each other in intense races.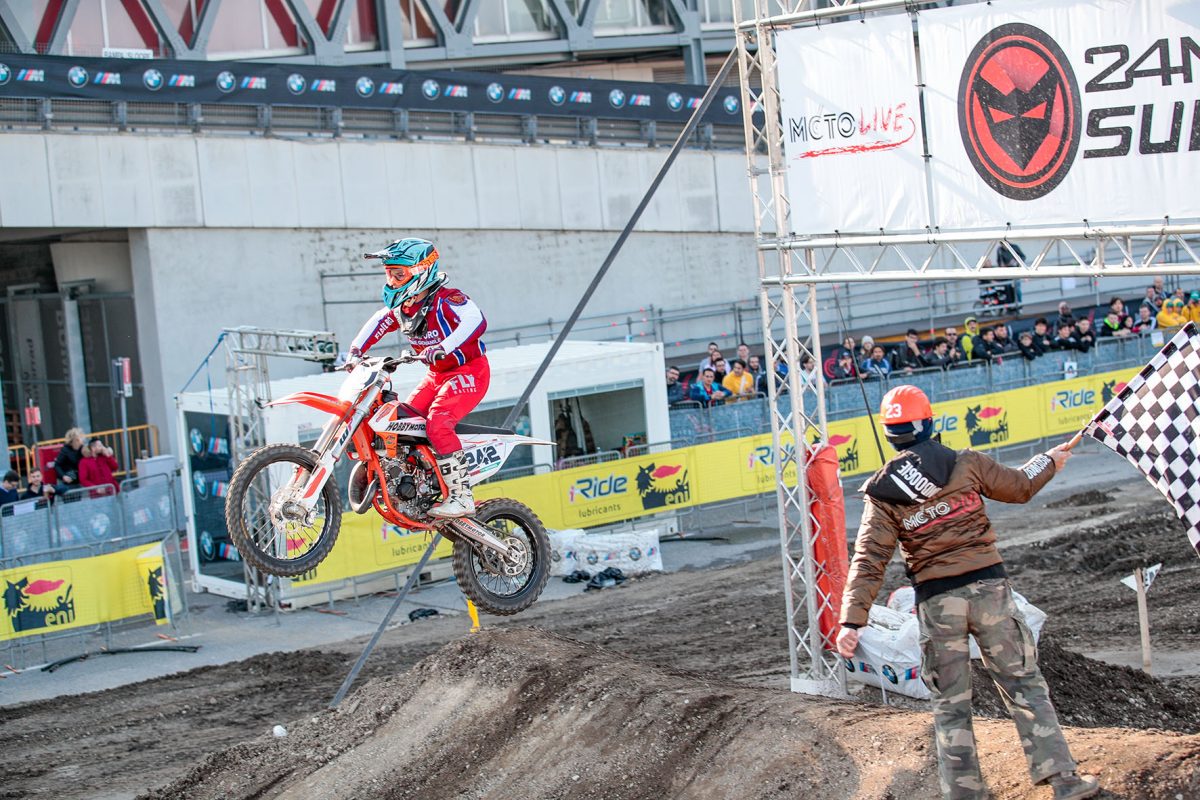 SX Junior 85
Continua il dominio incontrastato di Alessandro Gaspari ad EICMA, il giovane vicentino si è aggiudicato infatti anche il main event della SX Junior 85 di oggi e con il bottino pieno di 60 punti si aggiudica anche il titolo di Campione 2019. Sul podio di giornata salgono anche Lorenzo Aglietti e Patrick Busatto, che si sono scambiati le posizioni a due giri dal termine, quando Busatto è scivolato, perdendo il secondo posto a vantaggio di Aglietti. In campionato, alle spalle di Gaspari, conquista l'argento Elia Alamanni, mentre a Francesco Zoriaco va il bronzo.
Alessandro Gaspari's uncontested dominion continues at EICMA, the young rider won also today's main event of the SX Junior 85 and with 60 points loot he also wins the 2019 Champion title. Lorenzo Aglietti and Patrick Busatto, went second and third on the box. In the standings, behind Gaspari, Elia Alamanni took the silver medal, while Francesco Zoriaco goes bronze.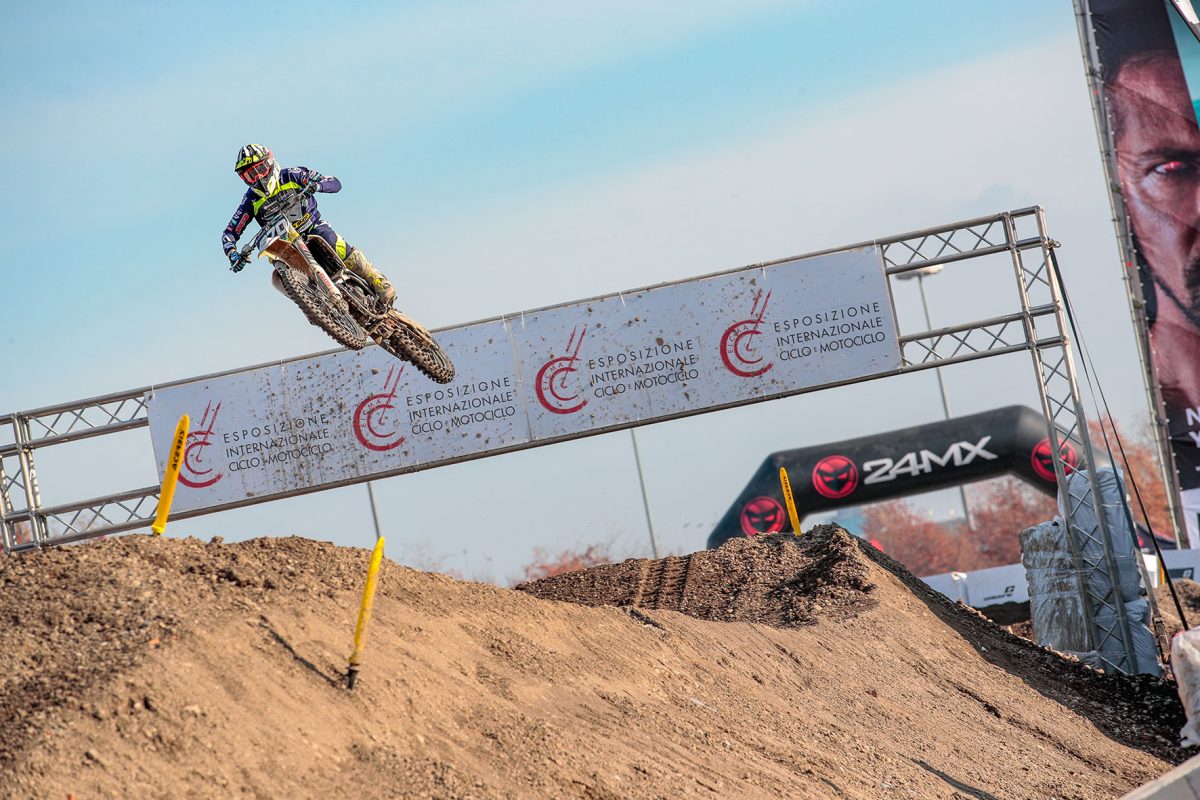 SX Junior 125
E' Eugenio Barbaglia ad aggiudicarsi il Main Event della domenica in 125, il pilota del Team Maddii parte leggermente attardato ma nel corso del quinto giro raggiunge la testa della gara e si invola in solitaria fino al traguardo, alle sue spalle uno scatenato Giacomo Bosi rimonta fino al secondo posto dopo una partenza difficile, mentre Daniel Gimm, partito in testa chiude il terzetto che sale sul podio al terzo posto. A vincere il titolo della ottavo di litro a due tempi è Manuel Bersini (34) che precede in classifica Emanuel Pasotti (32) e Rodolfo Bicalho (31).
Eugenio Barbaglia win Sunday's 125 Main Event, the Maddii Team rider started slightly delayed but during the fifth lap he reaches the head of the race and flies solo to the finish line. Behind him Giacomo Bosi comeback up to second place after a difficult start, while Daniel Gimm, who started in front, closes the trio that gets on the podium. To win the title of the 125 class is Manuel Bersini (34) who lead Emanuel Pasotti (32) and Rodolfo Bicalho (31).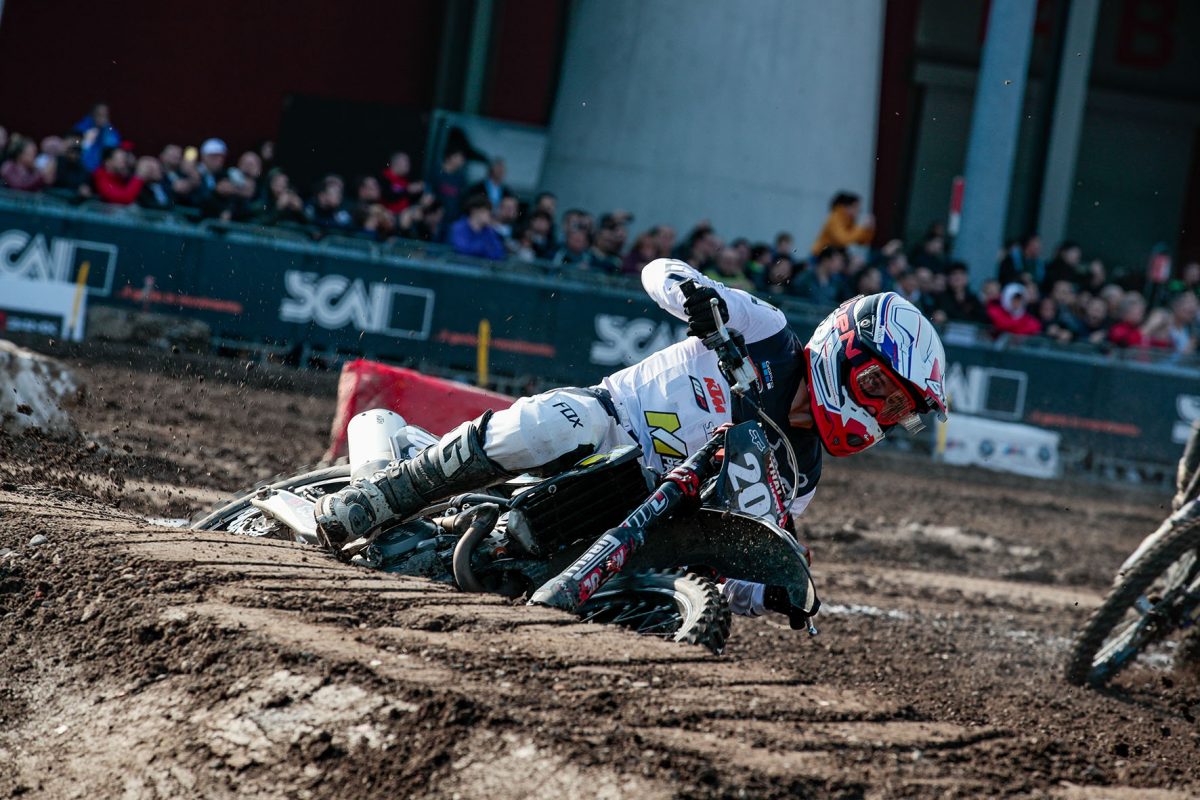 SX Lites
Un acciaccato Lorenzo Camporese parte davanti a tutti nel Main Event della Lites, aggiudicandosi il Tissot Hole-shot Award e conducendo la gara per i primi tre giri, quando, raggiunto e superato da Filippo Zonta, ha cominciato ad accusare problemi causati dal recente infortunio. Via libera così per Zonta che vince davanti all'australiano Caleb Grothues e ad Emanuele Alberio. Camporese vince il titolo della Lites con un solo punto di vantaggio su Zonta, assente al primo appuntamento, e 4 su Paolo Ermini, terzo.
An injured Lorenzo Camporese starts in front of everyone in the Lites Main Event, winning the Tissot Hole-shot Award and leading the race for the first three laps, when, reached and overtaken by Filippo Zonta, lost few positions. So Zonta won in front of the Australian Caleb Grothues and Emanuele Alberio. Camporese won the Lites class title with a single point ahead of Zonta, and 4 on Paolo Ermini.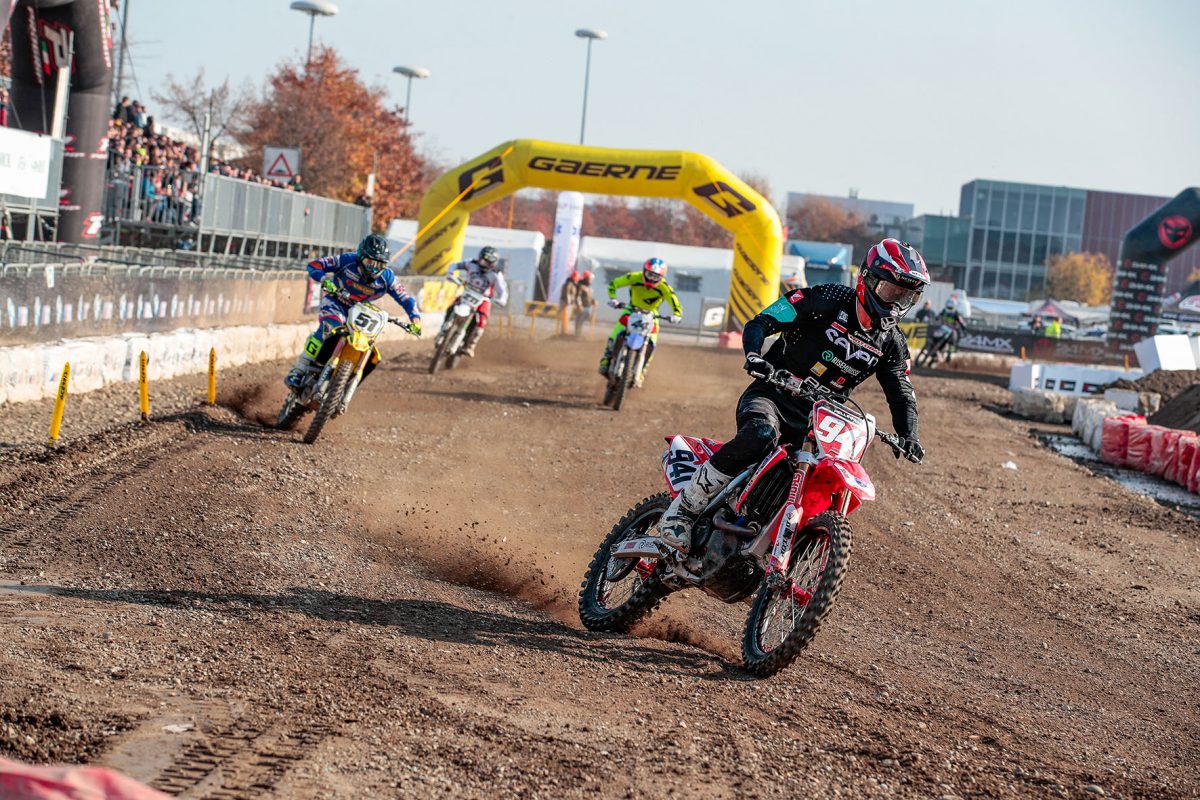 Supercross
Bottino pieno per Angelo Pellegrini nella classe regina del Supercross, ma a centrare il Tissot Hole-shot Award è il russo Vladislav Leonov. La leadership del pilota Suzuki dura lo spazio di un giro, quando Pellegrini prende il comando e si invola verso la terza vittoria della stagione e verso il titolo di campione. Alle spalle del bresciano tagliano il traguardo Morgan Lesiardo e Tevin Tapia, mentre in campionato Morgan Lesiardo è secondo dietro Pellegrini, precedendo Alessandro Contessi, terzo. Nella classifica Internazionali SX, aperta anche agli stranieri, Pellegrini vince davanti a Khounsith Vongsana e a Lesiardo.
Full haul for Angelo Pellegrini in the premier class of the Supercross, but is the Russian Vladislav Leonov that won the Tissot Hole-shot Award. The leadership of the Suzuki rider lasts a lap, when Pellegrini takes the lead and flies towards the third win of the season and towards the title of champion. Behind him, Morgan Lesiardo and Tevin Tapia cross the finish line, while in the standings Morgan Lesiardo is second behind Pellegrini, ahead of Alessandro Contessi, third. In the Internazionali SX standings, open also to foreigners, Pellegrini wins ahead of Khounsith Vongsana and Lesiardo.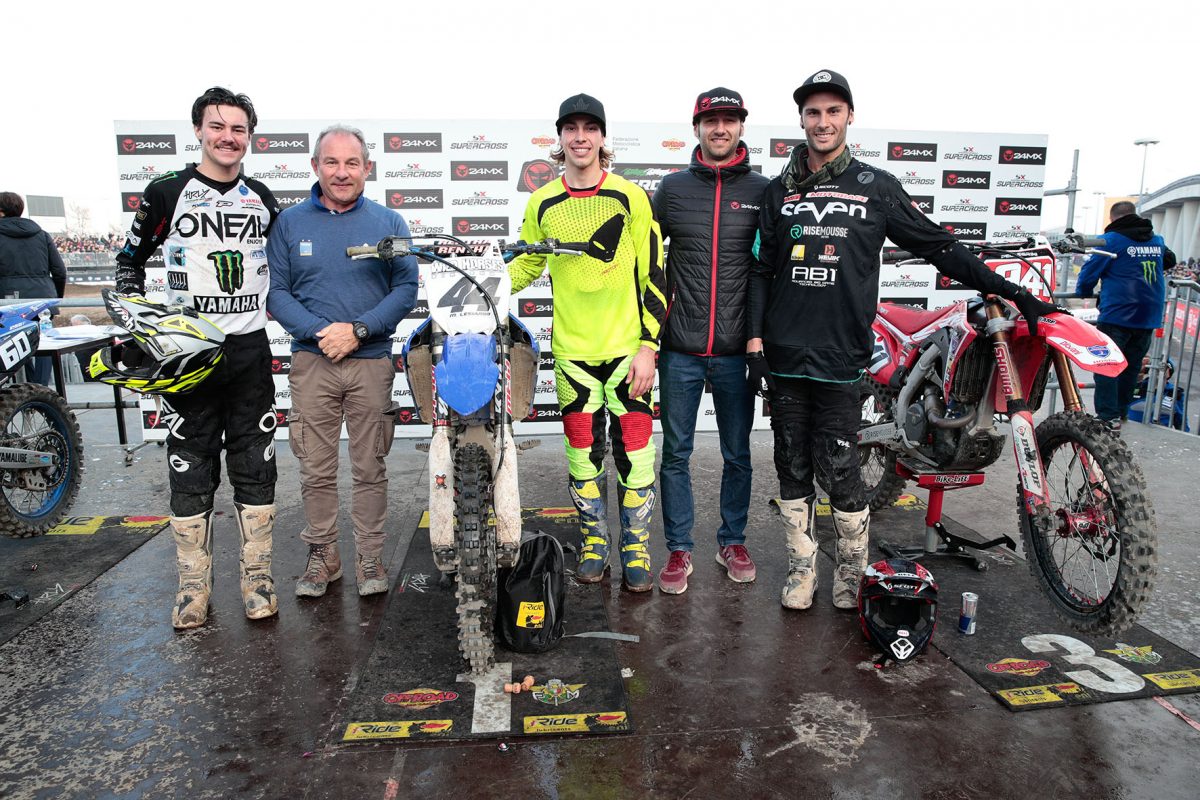 Superfinale
Le gare della quindicesima edizione di Motolive si sono concluse con la Superfinale che ha visto schierati al cancello di partenza i migliori piloti della Lites e della Supercross ed è stato Morgan Lesiardo questa volta ad aggiudicarsi il Tissot Hole-shot Award, transitando per primo alla seconda curva. Ad inseguirlo l'australiano Grothues che prova a insidiare la leadership fieno alla fine, senza successo, mentre dalle retrovie parte la furiosa rimonta di Pellegrini che dopo un contatto in partenza ed un uscita di pista a causa di un incidente occorso davanti a lui, riesce ad agguantare la terza posizione finale negli ultimi giri.
The races of the fifteenth edition of Motolive ended with the Superfinal with the best Lites and Supercross riders lined up at the starting gate and it was Morgan Lesiardo this time who won the Tissot Hole-shot Award, passing first to the second curve. Behind him the Australian Grothues went second, while Pellegrini went third after a strong come back.
Si conclude così la tre giorni di gare ed eventi che hanno animato l'arena dedicata al racing e all'intrattenimento di Eicma 2019. Un grande successo di pubblico e spettacolo, con numeri impressionanti in termini di presenze di piloti in gara. Appuntamento al 2020 per la sedicesima edizione di Motolive.
Motolive 2019 was once again a great success with crowds and show, with impressive numbers in terms of the presence of riders and public. Appointment to 2020 for the sixteenth edition of Motolive.
---
---