F.M.I. INTERNATIONAL SUPERCROSS ITALY SERIES BY 24MX
Report Time – Secondo giorno di gare nell'area Motolive di Eicma 2019, con la EX-BIKE protagonista della scena. All'interno dello spettacolare contenitore racing di EICMA, l'immancabile appuntamento giunto alla sua quindicesima Edizione, dove il pubblico può assistere gratuitamente a competizioni e lasciarsi entusiasmare da show, musica e spettacoli di intrattenimento, è andata in scena la nuova realtà dello sport a due ruote, la EX-BIKE con la Motolive CUP che ha preso il via sul tracciato ricavato all'interno dell'arena. In pista anche le moto con gli Internazionali d'Italia Supercross by 24MX con ben quattro classi in gara sullo splendido tracciato disegnato ad Armando Dazi e dagli uomini della Armatek, che ha permesso ai piloti della SX Junior 85, SX Junior 125, SX Lites e Supercross di disputare belle manche dando vita a bellissime bagarre. La giornata si è conclusa con il secondo incredibile Buggy Flip eseguito da Maurizio "Pera" Perin, che questa volta ha saltato in compagnia dei freestyler del team Daboot, dando vita ad un'inedita quanto spettacolare scenografia nel cielo limpido della settantasettesima Eicma.
Second day of races in the Motolive area of ​​Eicma 2019, with the EX-BIKE protagonist of the scene. Inside the spectacular racing area of EICMA, the new class of the two wheels sport, the EX-BIKE, with the Motolive CUP that started on the track inside the arena. Also the motorbikes went on track, with the four classes of the Internazionali d'Italia Supercross by 24MX. The SX Junior 85, SX Junior 125, SX Lites and Supercross run beautiful races creating beautiful brawls. The day ended with the second incredible Buggy Flip performed by Maurizio "Pera" Perin, who this time jumped together with the Daboot team freestylers, putting on stage a new and spectacular scenery in the clear sky of the seventy-seventh Eicma.
SX Junior 85
Nella categoria riservata ai piloti delle piccole 85cc a due tempi dominio assoluto di Alessandro Gaspari; il pilota delle Fiamme Oro, dopo aver dominato le qualifiche del mattino parte in testa nel Main Event, conquistando il Tissot Hole-Shot Award e centrando la vittoria al termine dei dieci giri di gara, precedendo al traguardo Patrick Busatto e Lorenzo Aglietti. In testa al campionato si conferma quindi Gaspari, già vincitore del primo round.
In the 85cc two-stroke race dominion of Alessandro Gaspari; the Fiamme Oro rider, took the lead in the Main Event, winning the Tissot Hole-Shot Award and clinching the victory after the ten laps of the race, ahead of Patrick Busatto and Lorenzo Aglietti. In the standings, Gaspari that already won the first round, is first.
SX Junior 125
Tissot Hole-Shot Award per Luca Ruffini nel Main Event della gara delle ottavo di litro a due tempi, il giovane pilota KTM cede però la posizione dopo tre giri al brasiliano Rodolfo Bicalho che aumenta il suo margine in pochi passaggi e si invola verso la vittoria mentre alle sue spalle Ruffini, Emanuel Pasotti e Tiberio Mazzantini danno vita ad una entusiasmante battaglia per le due restanti posizioni sul podio, con Mazzantini che ha la meglio nel finale su Ruffini, terzo al termine dei tredici giri di gara. In campionato Manuel Bersini, vincitore del primo round, precede di 1 punto Pasotti e di 7 Bicalho.
Tissot Hole-Shot Award for Luca Ruffini in the Main Event of the 125cc two-stroke race, however, the young KTM rider loose the position after 3 laps to the Brazilian Rodolfo Bicalho who increases his lead in few laps and flies towards victory, while behind him Ruffini, Emanuel Pasotti and Tiberio Mazzantini had an exciting battle for the two remaining positions on the podium, with Mazzantini winning the second final place over Ruffini, third at the end of the thirteen laps of the race. In the standings Manuel Bersini, winner of the first round, lead by 1 point Pasotti and by 7 Bicalho.
SX Lites
E' Lorenzo Camporese a scattare davanti a tutti nel Main Event della classe SX Lites, il pilota della Kawasaki resiste per tre giri agli attacchi di Federico Tuani che al quarto passaggio prende la testa della gara, tenendola fino a due giri al termine quando il veronese Filippo Zonta lo aggancia e lo passa dopo una bella rimonta che lo vede recuperare ben sei posizioni e tagliare il traguardo per primo, precedendo sul podio Tuani e Raffaele Giuzio, partito alle sue spalle, con Camporese quinto sotto la bandiera a scacchi ma ancora primo in campionato, nonostante l'infortunio che lo ha rallentato oggi, dove precede di 5 lunghezze Paolo Ermini e di 9 Filippo Zonta.
It is Lorenzo Camporese who takes the head of the race in the Main Event of the SX Lites class, the Kawasaki rider lead for three laps on Federico Tuani who at the fourth lap takes the lead of the race, holding it up to two laps till Filippo Zonta hooks it and overtook him after a good comeback, recovering 6 positions and crossing the finish line first, ahead of Tuani and Raffaele Giuzio, with Camporese fifth under the checkered flag but still first in the standings, despite the injury that slowed him down today.
Supercross
Dominio tricolore per Angelo Pellegrini nella classe regina del Supercross, il pilota bresciano prende la testa del gruppo alla seconda curva dopo una partenza non perfetta e impone il suo ritmo fino all'ultimo giro, tagliando il traguardo in controllo su Morgan Lesiardo, autore di una bella rimonta fino al secondo posto. Terzo sul podio del Main Event l'americano Tevin Tapia, a lungo secondo, sopravanzato però da Lesiardo a metà gara. In classifica di campionato Pellegrini è solitario in testa a punteggio pieno con 40 punti e precede Khounsith Vongsana a 23 e Morgan Lesiardo a 16.
Superb race for Angelo Pellegrini in the Supercross premier class, the Italian rider takes the lead of the group at the second corner after a not perfect start and imposes his rhythm until the last lap, crossing the finish line over Morgan Lesiardo second. Third on the podium of the Main Event the American Tevin Tapia. In the standings Pellegrini lead with a full score with 40 points and precedes Khounsith Vongsana (23) and Morgan Lesiardo (16).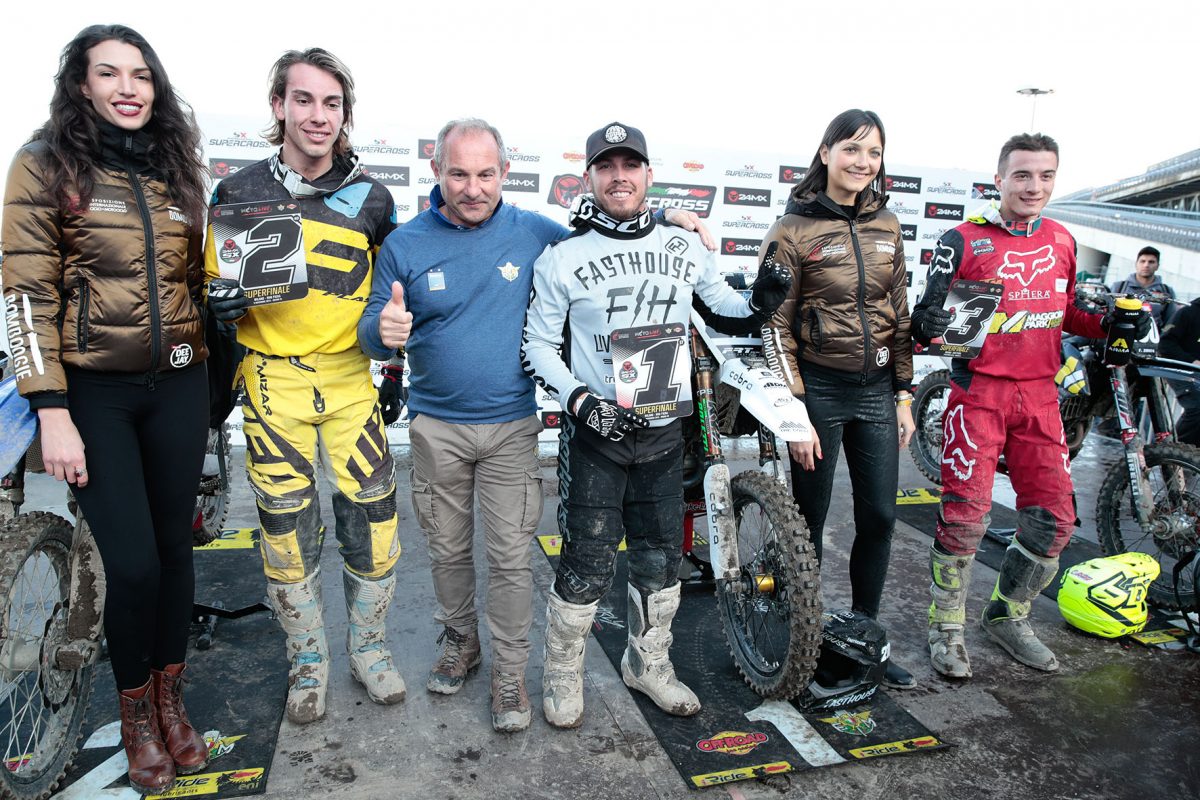 Superfinale
In Superfinale a scattare davanti a tutti è Emanuele Alberio che alla seconda curva precede Stefano Dami e Tevin Tapia mentre poco più indietro Morgan Lesiardo cade e Angelo Pellegrini viene steso da Caleb Grothues. Lesiardo riparte prontamente e si getta all'inseguimento dei fuggitivi, mentre gli altri due riprendono la gara da ultimi molto attardati ma davanti a tutti è lo statunitense Tapia a prendere il comando, seguito da Filippo Zonta. L'americano controlla fino al traguardo andando così a vincere la Superfinale, precedendo uno scatenato Lesiardo incredibilmente secondo e Zonta, mentre Pellegrini è decimo sotto la bandiera a scacchi.
In Superfinal is Emanuele Alberio who take the lead at the second corner leading on Stefano Dami and Tevin Tapia while a little further back Morgan Lesiardo crash and Angelo Pellegrini is stretched by Caleb Grothues. Lesiardo promptly restarts and throws himself in pursuit of the race lead, while the other two riders resume the race from late very late. In front is the American Tapia that take the lead, followed by Filippo Zonta. The American controls to the finish line and win the Superfinal, on an unleashed Lesiardo incredibly second and Zonta, while Pellegrini is tenth under the checkered flag.
EX-BIKE
Due le categorie in gara nella finale della EX-Bike. In EX1 centra la vittoria l'atleta tedesco Marco Fleissig che precede al termine di un appassionante duello durato sette giri, l'Italiano Roberto Fabbri, primo fino all'ultimo passaggio; terzo l'altro tedesco in gara, Mark Scheo. Nella classe EX Open vittoria di Stefano Bascialla, primo davanti a Loris Vannucci.
Two categories competed in the EX-Bike final. In the EX1 class the German athlete Marco Fleissig achieved the victory, winning a thrilling duel that lasted seven laps, with the Italian Roberto Fabbri, first until the last lap; third the other German, Mark Scheo. In the EX Open class, Stefano Bascialla won, first ahead of Loris Vannucci.
Appuntamento a domani con la terza ed ultima giornata di spettacolo nell'area esterna della fiera, con le gare conclusive degli Internazionali d'Italia di Supercross by 24MX e la proclamazione della "Moto dell'anno" by Motociclismo che verrà annunciata alle 14.35 dal palco di Motolive.
See you tomorrow with the third and final day in the external area of ​​the fair, with the final races of the Internazionali d'Italia Supercross by 24MX and the proclamation of the "Moto of the year" by Motociclismo which will be announced at 2.35pm from the stage of Motolive.